Vice-Chancellor's Blog: week ending 6 March 2020
Tuesday was an exciting day for many people on campus as the Chancellor, Emeli Sandé MBE, spent time with us in Sunderland. 
In a busy programme, the Chancellor:
• was briefed on a number of University-wide developments;
• met with the three Presidents of the Students' Union, a school coordinator, and some of our elite athletes;
• officially opened the School of Medicine;
• had tours of both Helen McArdle House and the National Glass Centre; and
• joined a roundtable discussion with staff, governors and external partners. 
In addition, there were a lot of impromptu conversations – and photographs! – with staff and students.
Everyone who met the Chancellor was buzzing after a brilliant day. Emeli looked, and sounded, very relaxed and gave a very strong impression of enjoying herself as our Chancellor. 
We were also impressed at how interested Emeli seemed to be in all of our work, recognising that we threw an awful lot of information at her during the day. So, we hope to build on this first visit and make even better use of our Chancellor in the months and years ahead.
For our colleagues who manage external events and visits, it has been a particularly busy few days. As many of you would have heard, we hosted BBC Radio 4's Any Questions? on Friday 28 February.
The panellists covered a number of subjects in a lively discussion hosted by the excellent Chris Mason. Unsurprisingly, the first question was on coronavirus and took up almost 15 minutes. 
Less predictably perhaps, there was then a question on freeports, as this is a policy initiative which a number of people have been talking about recently. Fortunately, there was an expert on the panel and so we were treated to a simple and clear explanation of what a freeport is by Frans Calje, the Chief Executive of PD Ports, the owners of Teesside and a number of other ports.
In a neat coincidence, Chris told me afterwards that his very first Any Questions? as the programme's new permanent chair was held at the University of Reading – my previous institution – late last year. I told him that we had been trying to get the programme to Reading for years so I was delighted to hear that my successor succeeded where I had failed!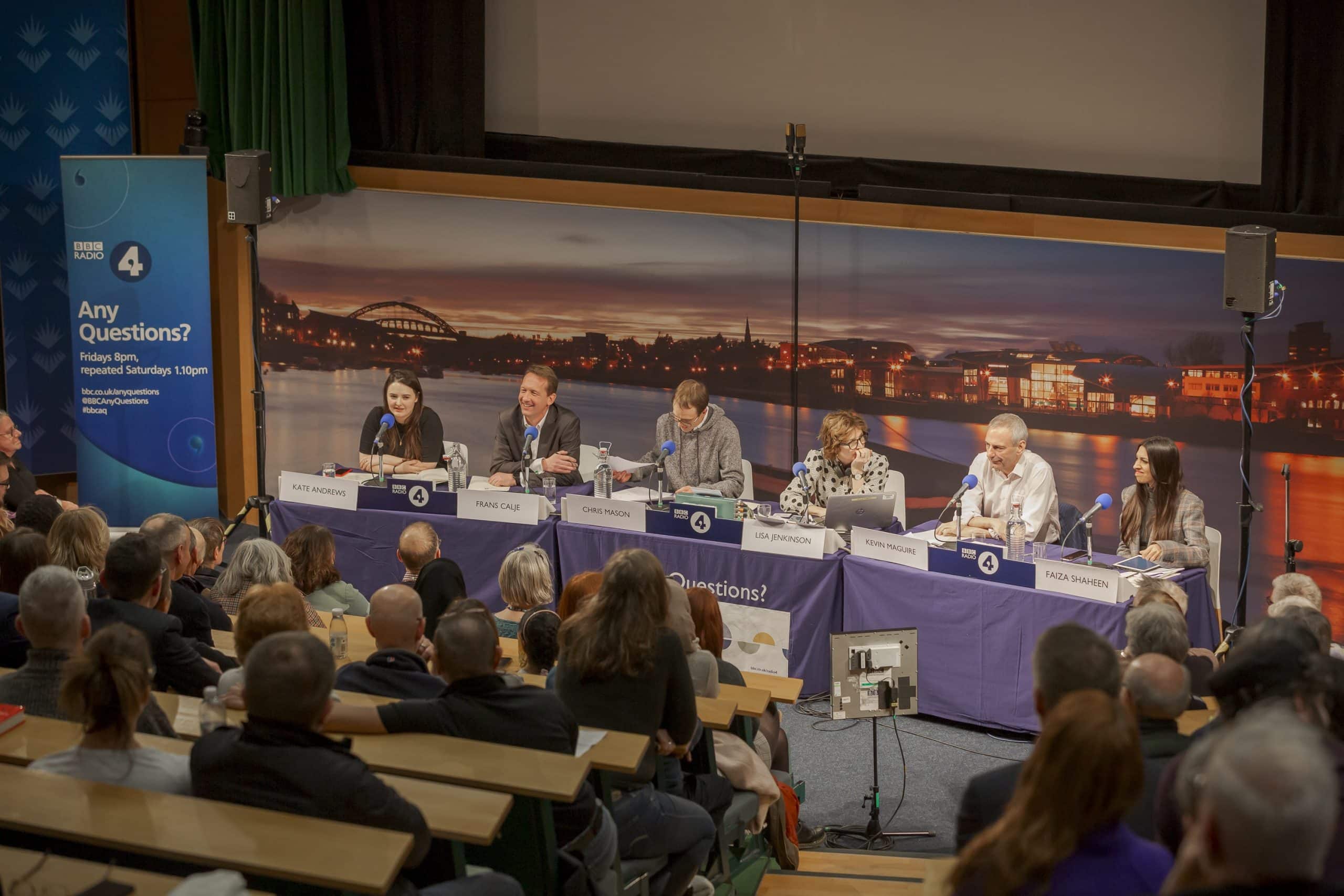 Talking of a previous life, I welcomed two old friends to the University this week. Peter Lauener was a colleague of mine when I was Permanent Secretary – the most senior civil servant – at the Department for Education (DfE). Now, he is Chair of Governors at Newcastle College.
I always admired, and sought to emulate, Peter's wonderful calmness under pressure. Even when handling the most hostile parliamentary committee – the legendary Public Accounts Committee – Peter was nothing other than polite, measured and sensible. It was always good to have him by my side at such appearances.
The other guest who came to speak to colleagues internally, as well as representatives of further education colleges, was Lucy Andrew from the DfE. Lucy was my Private Secretary for two years when I was there.
The Private Secretary is the person who works closest with ministers and permanent secretaries on policy matters, and a whole host of other things too. We had a few interesting times together, including working with Alan Johnson and Ed Balls as secretaries of state and overseeing the transition from the Blair to Brown governments. 
And, of course, the civil service has been in the news quite a bit this week with all kinds of stories swirling about on the relationships between permanent secretaries, their staff and ministers. If you want to know about my time in Whitehall, wait for the memoirs…
These days, I largely confine my comments to higher education, as you can read HERE from Monday's edition of The Guardian.